Patient Engagement Solutions Designed for Researchers of Cancer Treatment and Rehabilitation

Every year about 14 million people are diagnosed with cancer and the numbers are invariably increasing. With better medical care and recent advancement in treatment technologies, healthcare systems have managed to successfully improve diagnosis, prevention, and treatment for patients.

Cancer rehabilitation is becoming the new frontier in improving the quality of life of cancer patients. Surviving cancer often has a physical and psychological impact on patients that makes it harder for them to perform even the simplest daily activities. To overcome those difficulties, effective post-treatment support and care is required. According to the American College of Surgeons Commission on Cancer, "The availability of rehabilitation care services is an essential component of comprehensive cancer care, beginning at the time of diagnosis and being continuously available throughout treatment." Studies have shown that beginning cancer rehab at diagnosis has the potential to reduce the overall medical cost in the long run.

Since 2019, Bluejay Mobile Health has been working together with researchers at University of Texas at San Antonio to create a comprehensive digital rehabilitation platform for cancer patients. Through BlueJay, scientists can:

1. engage cancer patients remotely through video or messaging communication tools
2. monitor patient exercise regimen compliance
3. collect patient reported outcome data
4. provide continuum of care after patients are discharged from hospitals

Researchers at University of Texas Health at San Antonio use Bluejay's platform to deliver remote rehabilitation that combines exercise (i.e. yoga, meditation), diet guidance, and data-based motivational messaging. This collaboration led to many positive results such as improvements in pain and fatigue, enhanced physical activity, positive behavioral responses and overall better clinical outcomes.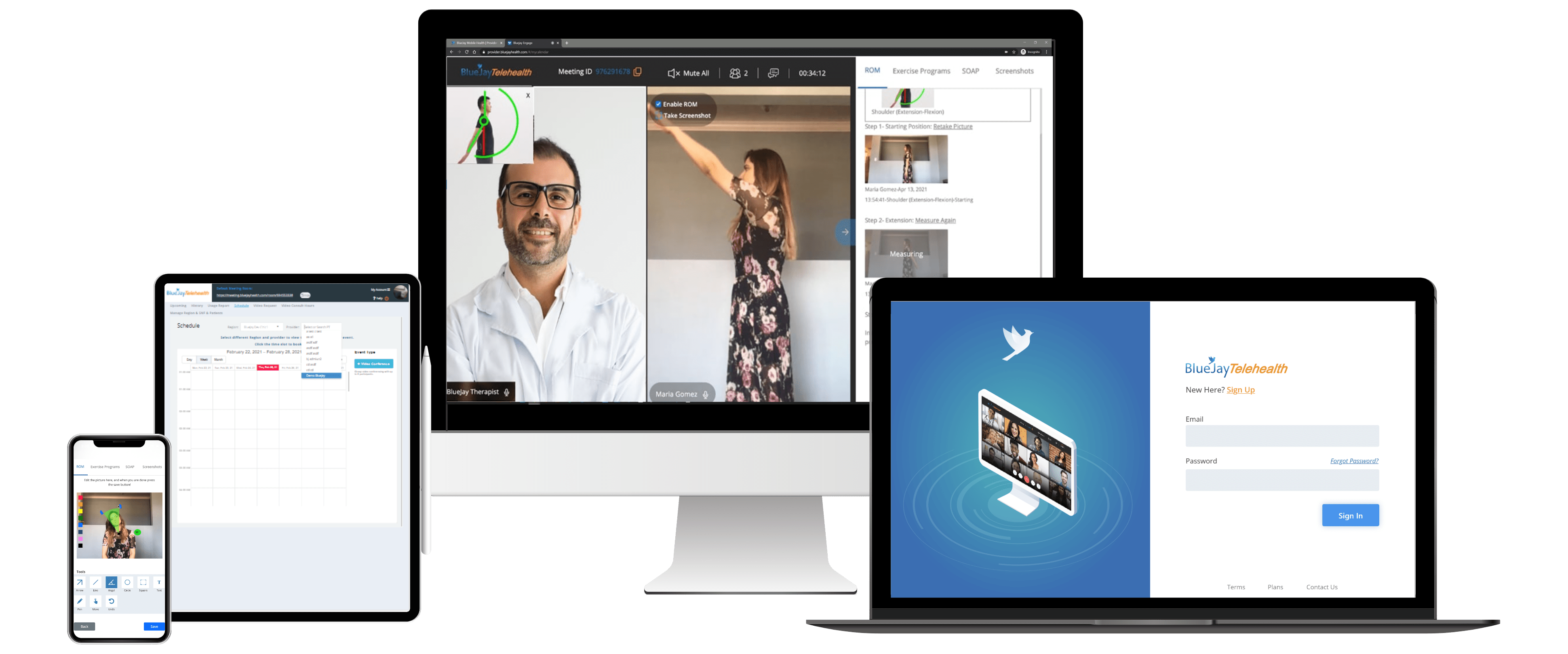 BlueJay Mobile Health can help with your clinical studies by providing a simple, fully customizable patient engagement solution that includes:

• automated reminders
• automated questionnaires and surveys
• scheduled video visits,
• secure messaging
• care coordination,
• compliance tracking,
• home exercise videos and patient education materials that providers can share with their patients
• HIPAA compliant system
• full integration with all wearable devices currently available on the market